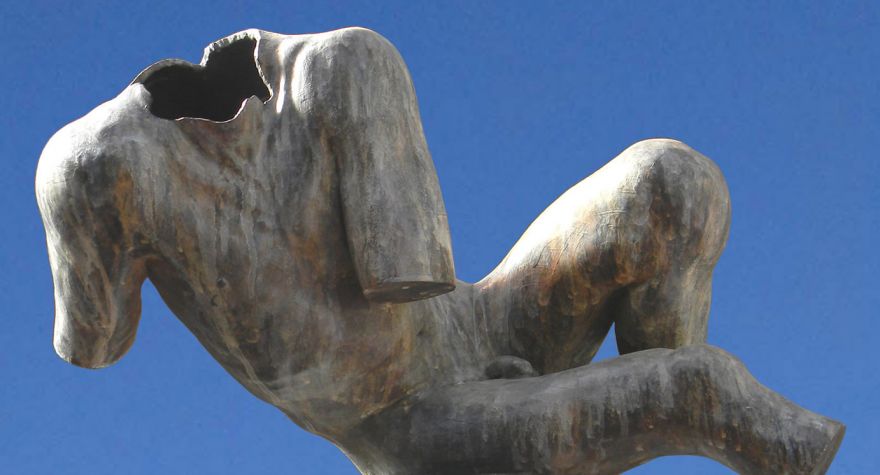 Biography
Rory Breslin
Artist/Sculptor
Outline CV
Biography
Rory Breslin studied art at the National College of Art and Design. His further education saw him working in England, France, Czech Republic and Slovakia. He returned to Ireland where he co-founded the Head Sculpture gallery in Dublin. He lectured part-time in the National College of Art and Design in figurative sculpture. He has had numerous solo drawing and sculpture exhibitions and has executed a large body of public commissions. He is currently living in the West of Ireland.
Solo  Exhibitions
1990  Sculpture, Head Gallery, Temple Bar Dublin, bronze, lead and wood sculpture
1991  Yellow, drawings, pencil and oil paint on paper, Head Gallery, Dublin
1991  Bromide, drawings, pen and ink on bromides, Royal Institute of Architects of Ireland, Merrion Square, Dublin
1992  6figure, wood sculptures, Tyrone Guthrie Centre, Co. Monaghan
1993  Hominis Machina, wood sculptures, Irish Film Centre, Temple Bar, Dublin
1994  Some attachments, some severance, drawings, charcoal on paper, Pantheon Gallery, Dawson St. Dublin
1995  Box Variations, drawings, charcoal and chalk on paper, Jo Rain Gallery, Temple Bar, Dublin
1997  Zugzwang, bronze sculpture, Royal Hibernian Acadamy, Dublin
2004  Box variations II, bronze sculpture and pencil drawings, Chestnut St. Philadelphia, USA
2005  Without Title, bronze/plaster sculpture, pencil drawings, and film , Linenhall Arts Centre, Castlebar, Co. Mayo
2007  Hominis Machina II, bronze sculpture and pencil drawings, Galerie Stam, Princengracht, Amsterdam
2010  Some attachments, and severance, bronze sculpture and drawings, Linenhall Arts Centre, Co. Mayo            
Awards include
…
Culture Ireland grant (Amsterdam), Department of Foreign Affairs award (Czech Republic), Arts Council travel and exhibition awards, Wicklow Co. Council exhibition award, Mayo Co. Council exhibition awards, 
Group exhibitions include
…
Irish Independents, Living Art, Temple Bar Gallery artists, Royal Hibernian Academy, Hallward Gallery. Kenny's  Gallery. Gormley Gallery, Solomon Gallery, Adams
Public Works include...
2000   Francis Stuart, bronze 480mm high, private commission, Dublin
2001   Kilmainham Gaol figure, stone 1200m high, Office of Public Works, Dublin
2001   Michael Davitt, bronze/stone 3400m high, Mayo Co. Council. Straide, Co. Mayo
2002   The Diver, bronze 1800mm high, private commission, Killala Bay, Co. Mayo
2003   Taraxacum Officionale, bronze dandelions 3500mm high, (with Lucy Hill) Wexford Co. Council, Enniscorthy, Co. Wexford
2003   Mart scene, three farm figures, bronze 1800m high, Mayo Co. Council, Ballyhaunis, Co. Mayo
2004   Alexander Flemming Monument, bronze/stone 1600mm high, private, Kilcon, Co. Mayo
2005   The helicopter, Sycamore seeds bronze/stone 1800mm high, Mayo Co. Council, Ballina, Co. Mayo.
2005   Bell Peal, bronze/stone 3200mm high, Mayo Co. Council, Knock, Co. Mayo
2005   Bluebells,  bronze, 3400mm high, Ascon, Enniscorthy, Co. Wexford
2006   The shell-picker, bronze/stone 2200mm. Clare Co. Council. Cappa, Kilrush, Co. Clare
2006   Proclamation panel, bronze, 240 cm X 70cm, private
2006   The fire-eye. bronze/stone (with Lucy Hill), 3200mm high, (with Lucy Hill) Mayo Co. Council, Westport, Co. Mayo
2007   James Fintan Lalor,  bronze/stone  4000mm high, Laois Co. Council, County Buildings, Portlaoise
2007   Keys, bronze/stone, 1800mm high, Mayo Co. Council, Castlebar, Co. Mayo
2008   Richard Crosbie Monument, bronze/stone 3400mm, Dublin City Council, Ranelagh, Dublin
2008   Sun Goddess, bronze/stone 2800mm high, private, Westport, Co. Mayo
2008   Ixion/The travails of a Mayo fisherman, bronze 2300mm high, private, Dublin
2009   Iris pseudacorus, bronze 4800mm high, Waterford Co. Council, Tramore, Co. Waterford
2009   Box Variation III, bronze/limestone, 1800mm high, private
2010   Seven Signatories, X7 bronze, Private, Dublin
2010   Michael Hartnett monument, bronze/limestone, 2500mm high,  Limerick Co.Co., Newcastle West.
2011   Trifolium Scabrum, bronze 3000mm high, Meath Co. Council.
2012   The Emigrants, bronze, limestone, 2400 mm high. Longford Co. Co.
2013   General Séan MacEoin Memorial. Bronze, Limestone, 2800mm high. Longford Co. Co.
2013   1913 Commerative Coin, Silver. Central Bank of Ireland
2013   Ted Kennedy, bronze busts, Kennedy Homestead, Wexford. OPW.
2013   Chancellor Peter Malone, bronze. University of Limerick
2014   Tralee Rose, bronze, ,  5000mm high, Tralee. Kerry Co. Co.
2014   Armagh Rail Disaster, bronze, limestone, The Mall, Armagh, Armagh City and District Council
2014   John McCormack, bronze, limestone. John McCormack Squre, Athlone, Westmeath Co. Co.
2014   Ernest Walton Commerative Coin, Silver. Central Bank of Ireland
2014   WB Yeats, bronze bust, National Library of India. Dept. Foreign Affairs
2014   Brian Boru Legacy Sculpture, bronze, limestone.  Armagh Cathedral. Armagh City and District Council